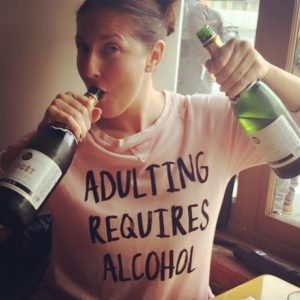 Angelism: Nothing prepared me for adulting more than a little (or a lot of) alcohol!
Hands down this is my favorite shirt and it speaks volumes of exactly how I feel. This top was kindly gifted to me by a bestie Yasmin who knows my personality inside and out! Truth is, I'm a fun party girl at heart. Not in a hot mess, wasted, can't get my life together way; but a let's rage and have fun tonight like rock-stars because responsibility will strike again soon! Sadly, that soon is always sooner than I prefer.
Monday – Friday, working for the man, abiding by all the darn rules of life, and living responsibly, I have to stick to a strict schedule. I eat healthy meals, drink lots of water, put myself to bed on time, and reluctantly put on my big girl panties every day. I stay focused and driven, lead my team, and care for those who need me. Every week with a smile, I power through all the little requirements of my big fat adult life: my job, maintaining relationships, paying rent, filtering through the stack of bills and contracts, whatever it is, I get my shit done. But, come Friday night, look out because I will be ready to drop it like it's hot!
I don't promote alcholism, but…. I do believe everything is good for you in moderation. I simply cram my daily 1-2 drinks of moderation into only my weekend days because adult beverages are yummy and I usually want a half dozen or more. Whether it is wine and champagne, beer and shots, or a fresh fruity cocktail, a good drink tastes delicious and it takes the edge off. A couple drinks opens people up, generates energy, and often leads to fun and some pretty entertaining memories. In a nutshell, best part of being an adult for me is being able to buy liquor and get into bars so that I may enjoy an adult night of whatever the hell I want.
So, cheers to all those like me who appreciate a fun-filled Blackout Friday, Saturday to Forget, or Sunday Funday Bubbly Brunch! I do not judge your desire to have bottomless mimosas with breakfast. Alcohol makes being an adult a little bit more manageable.