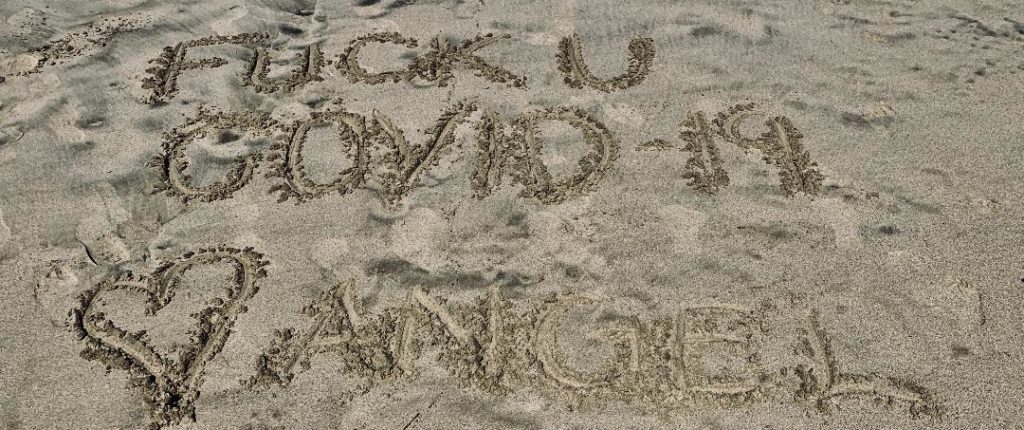 How Are You Managing #covid19life?
If you told me in early February that March 2020 would result in a complete life-style shut down I would have thought you were crazy. Never did I think for a second that a lock-down of life as we know it could even be possible on such a mass level. How easily we are all controlled in our country. We are soldiers ready to line up and do that which we need to do.
I don't want to sound disrespectful, I understand the importance of staying home, doing our part, and protecting one another. I know that this is an unfamiliar virus that we feel threatened by and taking steps to prevent a spike of cases that we are ill prepared to manage is very important. I will do my part. But a part of doing my part has me pissed off. This is really, really, really going to fuck with so many lives. It already has.
I'm a survivor so at the end of day if I have to live in my car on a new street every day, I can make that happen. I don't have a mortgage, I'm not raising kids, and I don't have an elderly family member living in my space that I need to care for. So, although this is confusing and hard, I'm managing fairly well. But we are all on edge. If we have a job today, we are all feeling uncertain it will be available to us tomorrow. We can't plan for the future because the future is not available to plan for. Things are changing daily, hourly sometimes; and what our leadership says one minute they take back the next minute. Why, why, why has this been so unorganized?
We had months, I repeat months to plan for this. If this was happening overseas, it was happening at the same time in our major cities. To assume we would be untouched by this was naive. Flights in and out of China and Europe, to our major cities of SF, LA, and NY were no doubt all areas of risk the entire time! To wait until mid March to address the urgency of this is really unacceptable. People will die because we didn't manage this sooner.
Knowing in early January this virus existed and was a deadly concern for elders meant we should have put our 60 and over population on lockdown right away. All large events could have been cancelled immediately as well as all international travel paused. Our country should have been immediately educated on social distancing and advised to have work from home strategies ready for implementation. Steps such as this could have very quickly flattened the curve but sadly none of that happened.
So here we are, totally fucked, with no toilet paper and a handful of Americans not taking it seriously because we actually believed this could not happen to us. Now, whether worth all the effort or not, we have to respect this social responsibility and try. Currently LA's lockdown has been extended to May 15, 2020. I have no faith they will let us run wild in time for Memorial Day or 4th of July weekend. I predict maybe life will make a comeback tour by mid July or August? I hope I am wrong; only time will tell.
Why I'm So Pissed At Covid-19!
I was looking forward to March 2020 for over a year. I had a 20th Anniversary party planned with friends and family coming from near and far to celebrate. I had a week-long Hawaiian vacation scheduled with some of our dearest friends. I spent the last three months losing weight and getting in good shape to be prepared for our special day. I had booked a DJ, bartender, catering, security, photographer, venue… everything was all lined up. Literally a week or two before the big day covid-19 took a shit on all of our plans. I'm also an April baby so no birthday this year for me. For all these reasons I say, "Fuck You Covid-19!"
The last few weeks have been pretty depressing as I had to cancel all of our plans and fight for refunds which ended up being even more difficult than setting up all the contracts in the first place. I must give one shout out to Budget rental car company. I had a week long non-refundable "paid in full" car reservation and they refunded it in full, no questions asked! United Airlines was less than helpful and Waipouli Beach Resort did not play fair during this time either. They all wanted to keep the money in full and credit us for a future use. Sorry, I could have covid-19 and die next month, so the future is a little uncertain right now! I demanded my money back since non of these services were going to be used. For the first time ever I exercised my right to dispute payments on my credit cards. Good news I won. If you don't actually receive services you don't have to pay! Lesson learned.
Hang In There!
At this point, all we can do is hang in there. The covid-19 crisis does not appear to be ending anytime soon. I've accepted that we will not vacation anytime soon. I realize that I cannot reschedule our 20th Anniversary party for a future date because who knows when a large gathering will be allowed again. I trust that this will pass but it will suck for a while to come.
We can't let the fear consume us. We must ask more questions and demand more answers. There is a lot about how this pandemic is being managed that has me concerned. I pray to remain healthy and safe, I pray that everyone I know and love remain unharmed by this, and I wish the best for anyone reading this to be in good health. Larger than this virus will be our collective efforts. Anxiety, depression, and suicidal thoughts will certainly increase from such a huge universal loss. Our freedoms and comforts were taken from us in a very short amount of time. We must care for one another as best we can at this time.
Hang in there! Read a good book, call someone you love, write in a journal, watch your favorite movie…. keep your body and mind strong and please stay safe!