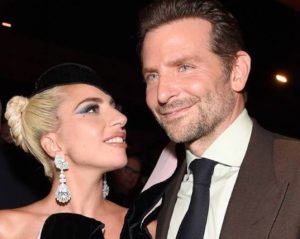 Angelism: Attraction is hard to hide. Even a simple crush can be obvious. Don't be blind to these connections in your own life.
I know nothing of these two fabulous celebrities personally, but I recognize crushing, goo-goo eyes when I see it! Does anyone else notice the way Gaga looks at Bradley? I cannot be the only one who thinks this. Truly, in my most intimate of moments, I'm not sure I have ever gushed with such intensity for someone, especially publicly. Thus far in the media they are claiming it's admiration, an instant friendship, and a genuine connection; I'm calling bullshit and stating my theory is that this is (or was) hot and heavy, between the sheets, total infatuation.
This could likely be another Brad Pitt and Angelina Jolie awkward situation.  The difference here though is I do not feel that Bradley is as interested in Gaga as one may think. I get the vibe of He's Just Not That Into You, and  that he is playing nice during award season to maintain the image of their sincere bond and commitment to the story and work. I think Bradley already tapped that ass and is thinking he can ride this out and move along when the buzz of the movie and soundtrack fades.
Don't get me wrong, I love both of these celebs. I think they are extremely talented and they deserve an insane amount of attention for their work in A Star is Born. Whether they end up together or not, I only wish them the best. But, something tells me there is more to this connection off screen and I can't wait to watch it unfold in the weeks and months to come. We all know, any kind of knocking-boots on the down-low always surfaces as the cover story in Hollywood. Time will tell!