Angelism: Nothing is ever really behind you… if something happened to you, and your experience was truly memorable (good or bad), it's only a matter of time before that ingrained memory appears again.
As with any victim of trauma, once you face something bigger than you can wrap your head around, it takes over and becomes a part of you. This experience or circumstance doesn't have to stop you, or consume your life,  but it is a part of your story and a reason at times you will fall back a step or two. When fight-or-flight hits, no matter how many people tell you to move through it and forget about it; the visions, memories, emotion, and weight of the experience, can, does, and inevitably comes back. How you choose to manage it is what matters.
Many of you know I had brain surgery last year on 12/12/18. A year ago this month, I was very unsure of what the hell was going to become of my life. Although I was confident I would power through, the unknown was terrifying. It was a personal journey that I had to brave. Though I had support and love all around me, I was the one who was about to have a hole drilled in my head. I had to wake up every day knowing this shitty situation was all mine to manage. I am happy to report I am on the other side of a successful craniotomy and thus far have recovered well.  As of now that large olive sized tumor invading space in my brain is no longer there. Now, I spend a lifetime praying it doesn't return.
Fortunately, in the last six months or so, I have thought very little about what I went through. My surgery and condition comes up in conversation once in awhile and I move through the chatter quite quickly. I still feel the scar when I scratch my head, I see the wispy hairs of a variety of lengths growing back to remind me of the trauma to my skull, and occasionally I feel some weird sensations in my head; thankfully overall I feel good and I have moved on. Life resumed as usual for me, it simply did not stop moving forward because I had a traumatic experience. I've been doing well and I am pleased with the results.
Now, this is where my Angelism comes in: Nothing is ever really behind you… if something happened to you, and your experience was truly memorable (good or bad), it's only a matter of time before that ingrained memory appears again. This quote could not be more true. I found myself yesterday in line at the grocery store, reviewing my  Facebook (FB) memories, when BOOM! Publicly tears welled up in my eyes, tears I could not fight. There I stood, reading my social media post that I created the day before my surgery announcing to my family and friends my diagnosis and the procedure I was about to endure. In this post I asked them for prayers and well wishes. The wave of unstoppable emotions simply took over. I paid for my groceries and quickly went to my car where I was compelled  to read through over 200 FB comments. It was beyond overwhelming. I was sad, happy, angry, scared, and super emotional, for no REAL reason. In this unexpected moment, all the feels came rushing back.
Hitting this one-year milestone post brain surgery has apparently triggered some PTSD that I could not escape. The last 12 months have been a challenge and they have taught me so much. My personal journey was one that took more strength than most people will ever realize.  I have never been a weak person. I always hold my head high, I fight for what I want, I strive to win, and I never give up. I have managed all of this very well and am super proud of myself. I stayed strong and had to fake that strength many days. If I've learned one thing it is that vulnerability is one diagnosis away. A diagnosis that can make someone tough like me, feel scared and weak, on any day, of any year, at any stage in life.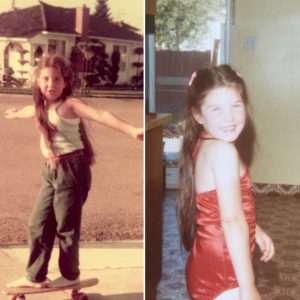 These pictures have me wishing I could be that "no worry" kid again. Little Angel had no idea how strong she'd have to be as an adult. A hard day back then was falling off my skateboard or playing outside too long and getting a sunburn. I see my little face and am driven to stay strong because from day one I have always been determined! 
MY BRAIN TUMOR DIAGNOSIS LESSONS:
Never give up on yourself or your circumstance. You are always a work in progress and sometimes you have to do work that you did not sign up for. For no good reason, a terrible circumstance will choose you. Be ready to fight!
Ask for help. People are willing to assist but often they do not know how to. Tell people what you need, how you would like them to show up for you, and the space they should give you. You will be surprised how willing to help friends and family are when they understand exactly what you want.
Get organized. The best gift you can give yourself is to get your shit together. This is good advice for anything in life but it was particularly helpful pre-surgery to have organized my life for three weeks in the future so I just had to power through the healing process free of worry.
Seek additional opinions. In my case I met with four well-known neurosurgeons in Los Angeles. I wanted to understand how they would approach my surgery and what the aftercare plan and expectations were. I learned a lot in this process and in the end I went with my gut. It was nice to have options.
Say I love you. With any surgery, you simply never know. I'm always very affectionate but I found myself being even more lovey and grateful. Should any of those days have been my last, I wanted people to know just how appreciative I was for my life and them being a part of it.
Come up for air. A scary diagnosis or traumatic event for that matter can really drown a person. The anxiety, fear, and nightmares that come uncontrollably require attention and management. I caught myself losing sleep, and having nightmares of my brain bleeding out during surgery. I'd lose my breath at the thought of an unsuccessful surgery and would get stomach pains thinking that I may not make it through this. The symptoms were real, but I fought! I hit the gym, I prayed, and set good intentions. I began to dream of a stronger, better me post surgery. It really helped!
Be patient. This was probably my biggest challenge. I am a workaholic. I love to stay busy and when I am not busy I love to venture out, enjoy life, and party. The idea of resting and relaxing, while in pain and not being mobile for three weeks sounded awful. I literally prepped for this by writing myself a letter, reminding me how important it is to remain patient during my healing journey. I still read this letter at times to ground me.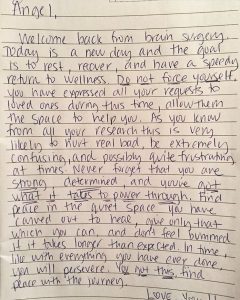 Cry and cry some more. Tears are therapeutic. Cry for your old self, cry for your new self, cry for the outpour of love you feel, cry for the inability to connect with someone who understands, cry for the unknown, cry because you are alone, cry because you survived, cry for the pain you see in those who worry for you, cry knowing that you may have conquered this day but possibly someone else was not as lucky, and cry because this is just one step of many in an unknown journey. There are so many reasons to cry, I learned you simply have to shed the tears and move along.
Respect that others do not understand and neither do you. Every individual human on this planet has baggage and it is unique and specific to them. What keeps you up at night is not something anyone else will relate to, especially if they do not have a very similar situation to compare it to. I knew I would need support so I  joined two online support groups where I could connect with people on a similar journey. This was the most helpful step I took. I also have a dear friend who had brain surgery two years before me. We are now bonded in a way others cannot relate to. But I highly suggest you accept the fact that people will not understand. They can't possibly "get it" and to expect otherwise is unfair. Focus on healing you, because you cannot change others to see, feel, and understand that which is your personal journey.
Accept that the only guarantee in life is death. I know this sounds morbid and maybe it is. Don't get me wrong, I don't want to die ever if I can help it, but I also only want to live if I am well. In this process I became OK with the idea that this could possibly be my time to go. I very proudly LIVE MY LIFE. I travel often, I eat the dessert, and order the extra shot with my beer. I soak in the sun, stay up late, celebrate every moment I can, and I'm not scared to take risks. I am transparent, what you see is what you get! I move with good intention, and I express love and appreciation all the time. I have no unfinished business. I feel whole, so therefore if my life needs to end tomorrow, I know I lived well. Somehow, this acceptance of my beautiful life, with no regrets, and no unfinished business, really gave me a sense of peace. The day of surgery, I got my anesthesia cocktail, closed my eyes, and drifted off to the unknown with complete confidence.
I'm positive there are lessons that I am forgetting but this is what comes to mind in my heightened emotional state. I thank you for reading if you made it this far. Here is a proud picture comparison. Image on left was me about 16 hours before surgery. I probably cried a dozen times that day trying to pump myself up to willingly check into a hospital and let a complete team of strangers drill into my head. To the right is my most recent work photo taken a few months ago. Thank goodness for professional photos giving me a beauty boost. All I can say at this stage is, "WOW what a difference a year makes! Whatever your journey, hang on… the hard days pass and in the end you're better for it!"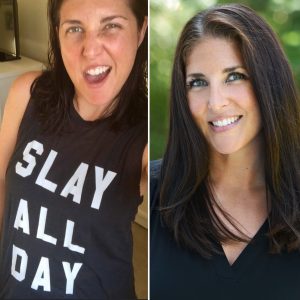 Images below of my memorable day that I am so grateful to have behind me. My surgeon was amazing and he is known for cutting and shaving very little. With so much gratitude I give a shout out to Dr. Daniel Kelly, he was fantastic!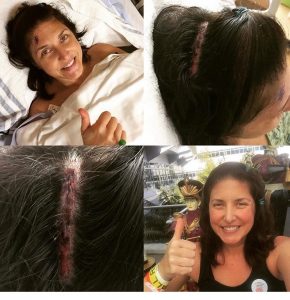 And well, because this is funny and we can all use a laugh…