Angelism: Holiday season = sweaters & fat pants!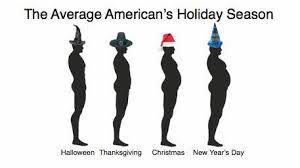 The holidays are challenging. It's my favorite time of year, yet the most difficult. I love parties, visiting with friends and family, sharing gifts, and creating memories. Additionally, I like to enjoy all the food and beverages that come with these moments. The sluggish, lethargic feeling of fatness that is the result of Halloween through New Years really weighs on me. Literally, weight on  me! I never seem to get through a holiday without packing on pounds and losing my cardio strength.
Many people struggle during this time. The holidays are like an annual free pass to get extra chubby and say, "Fuck it, I'll wear all my fat clothes for two months!" My rolls may spill over my jeans but they button so that's a plus! My boobs may form a tri-tit in the front center of my bra but at least it still wraps around my back. Wearing yoga pants and sweaters seems OK during this feasting season. The average American gains about ten pounds between Thanksgiving and New Years. You would think after ten months of eating right and exercising regularly that a two month splurge wouldn't be so hazardous to my health. Turns out everything good is bad and the holidays remind me of this again and again.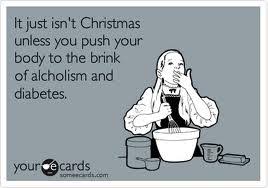 Now that the holiday madness is in full swing, in my head I am thrilled to start a New Year. I look forward to filling up my schedule with fun plans and setting goals to get organized and start fresh. The energy I have to do things from day one of a new year is amazing. I tell myself that no matter how lazy I am during the holidays, I will get focused come January 1st; however, until January 1st, I sit here feeling fat daily. I want nothing more than to drink a bottle of wine, eat some apple pie with ice cream, and watch movies while cuddling under a blanket near the fire. Sorry not sorry.
Despite my anger towards these eight weeks of laziness, I find a lot of comfort in the delicious homemade foods, fancy cocktails, yummy desserts, and endless treats. This comfort continually blinds me to the fact that every bite I take will add another dimple on my behind and another roll on my waste. In the moment while eating, I don't consider how hard it will be to fit in my denim, or how many miles I will have to run to burn off the additional muffin top; I focus solely on how many lazy, comfort food, cuddle days I can spend indoors, stuffing my face, while lounging in my pajamas. The reality will hit me the Monday after all the holidays are over and I have to go back to work. That day is brutal.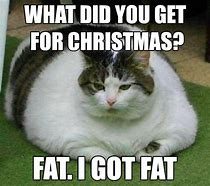 Soon I will say farewell to the pecan pie and hello to the chicken salad!  Until then, all I can do is embrace my holiday curves. Next year I should start my November off ten pounds under my usual weight so I can eat the foods I love and not feel like such a failure. I'm officially getting too old for this shit!
 Happy Holidays! Good luck with your holiday pounds.