Angelism: Knowledge is power & knowing the details of your roots is amazing & eye opening. 
I was told I was a mut growing up and that was why I was beautiful. I wonder if my family hoped I'd never question all that was actually me. I definitely had curiosity over the years on how my mix came together. People along the way asked, "What nationality are you?" Truthfully I couldn't quite put a finger on what I was. I'm not easily judged as any one nationality; showing up in this world with light eyes, dark wavy hair, freckles, tall, solid structure, curvy, physically strong, dominant nose, big eyes and large face; I appear to be many things. My Dad said on his side that I was 25% Italian, and 25% Spanish, and on my mom's side, I was 25% Polish, some Portuguese and who knows what else? Having traveled to Spain and Italy I definitely felt a pull to those cultures. At 40, it was time to discover the truth.
Turns out, I really am a bit of a melting pot. A rainbow of colors on the map above which is exciting and shocking all at the same time. Being mostly European was expected, but this breakdown was news to me. I had no idea I was Balkan, French, and German, nor would I have thought that I had British or Irish in me.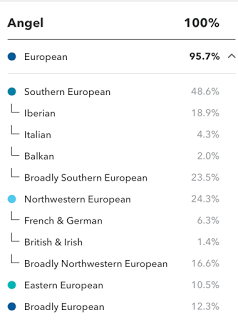 I also did not foresee being Native American or East Asian. I knew I would have some African roots in me as we have always heard there was some Puerto Rican heritage on my mom's side. I think it is an amazing thing to see this all mapped out down to each little DNA marker that makes up me.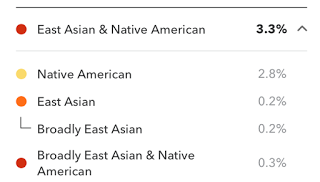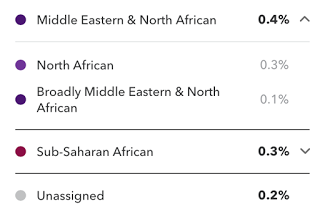 I highly encourage that if you ever had any interest in knowing where your roots are from that you take one of these tests. I did the
23andMe.com
DNA test that also reported on traits, wellness, and carrier status for certain health risks. I was so impressed with this report, that today I ordered a cancer gene test from
getcolor.com
because knowledge is power, and I want to know as much as I can.
My takeaway is that this explains my love for travel, and exploring a variety of things. My family history shows that we are movers, and I will assume we were willing to take risks and rebel once in awhile, as well as date outside of our race. It also explains why I have a love for so many types of food, and why I'm attracted to a variety of cultures, music, and lifestyles. My boyfriend took this test as well and he is much more of a purebred, 99.8% Northern European. He is my very white German, British, Irish, French and Scandinavian man. I love that my family history shook things up. Turns out I have cousins everywhere, and I think that's exciting! Cheers to diversity, blending, and the melting pot that is the USA. Glad that this Trump wall wasn't up 100+ years ago, none of my family would have made it over here. LOL!!!